My column appears in The National newspaper each Monday. This week I am arguing that Theresa May cannot take predictions of a landslide election victory for granted!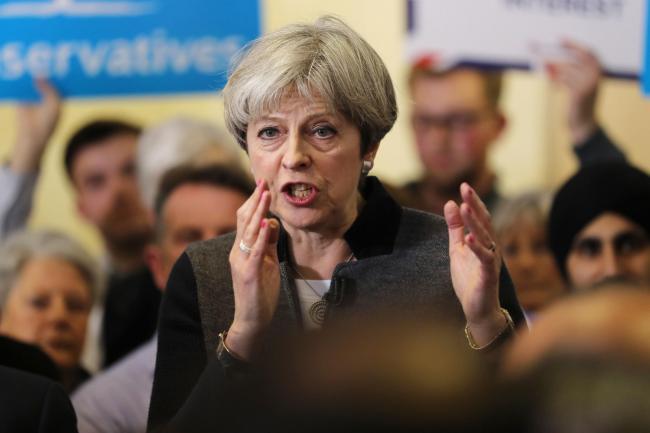 May and the Tories cannot win the 140-seat landslide being predicted

LAST Tuesday morning there were a lot of surprised Tories wandering the corridors of Westminster. The calling of a snap General Election for June 8 was a complete bolt out of the political blue, not to mention a 180 degree reversal of the Prime Minister's opposition to an early poll in the weeks before Easter. What gives?
The most important fact to glean from this turn of events is that Theresa May lives in a political bunker surrounded by only a tiny coterie of advisers. Foremost among these is Nick Timothy, 37, her bearded and Rasputin-like political chief of staff. Timothy has reinforced May's natural tendency to seal herself off from other Tory ministers and make decisions entirely on her own — including gambling the future of her premiership on a sudden election. This bunker mentality could be May's undoing.
When a Prime Minister goes it alone, there is always a sporting chance they become so blinkered and arrogant that they get whacked by events they didn't notice coming

You can read the whole column HERE

http://www.thenational.scot/politics/15241070.George_Kerevan__May_and_the_Tories_cannot_win_the_140_seat_landslide_being_predicted/

Today I travelled back to Westminster for the final time before the forthcoming UK General Election, pleased to have been adopted yesterday evening as the SNP candidate for East Lothian.

The Government's Finance Bill was hurried through Parliament as the Chamber prepares for dissolution. In a rather curtailed and hasty debate I was able to pose one question. I will await the answer.
You can watch me HERE


On Wednesday I was called to speak during questions to the Secretary of State for Wales, asking him why powers over matters such as agriculture could not be repatriated from Brussels to Edinburgh and Cardiff, and not Westminster.

You can watch our exchange HERE


That brought the curtain down on my tenure as MP for East Lothian in this Parliament. I have worked hard to serve all my constituents, of whatever party political affiliation, and enjoyed every moment.

Whether I return depends on you, the voters. Whoever you support please make sure you exercise your right to vote, people fought for us to have that right, and please ensure you are registered to vote.

Do so HERE

https://www.gov.uk/register-to-vote

You can also register by calling the Electoral Registration Office on 0131 344 2500, email enquiries@lothian-vjb.gov.uk

I started off the day in Fa'side Avenue South, Wallyford, where Cllr. Kenny McLeod and Linda Watson had alerted me to complaints about dust from the building site facing the houses. I understand that yesterday it was like a scene from Lawrence of Arabia.

Linda had reported the problem to the Council, where David Taylor leapt into action, and the contractors were spraying the ground with water by the time we all arrived.
A pity they needed to be reminded: in this dry weather of course there will be dust everywhere, but there are ways of minimising it.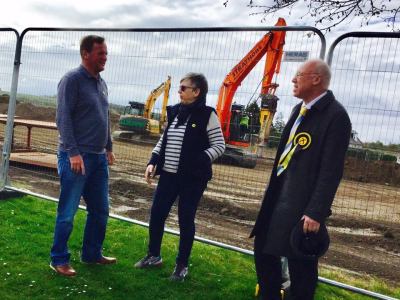 Then on to Prestonpans for the 20th birthday party for Roots & Fruits at the Community Centre. I admired the plastic vegetable display, enjoyed Pamela McKinlay's welcome, and ate my fair share of cake, made by Pamela's fair hands.

This is a wonderful organisation, funded by NHS Lothian and East Lothian Council, which encourages healthy eating at all ages. Congratulations to the staff, volunteers and customers for their continuing support.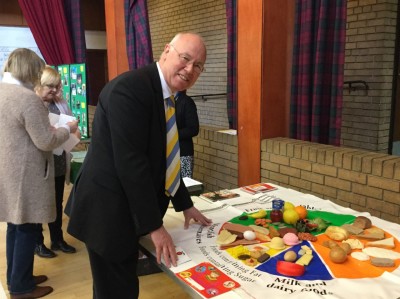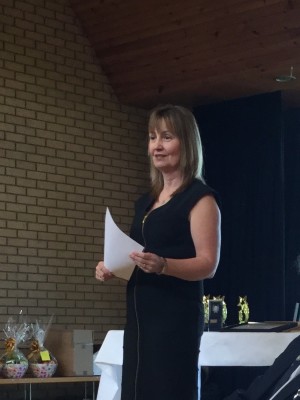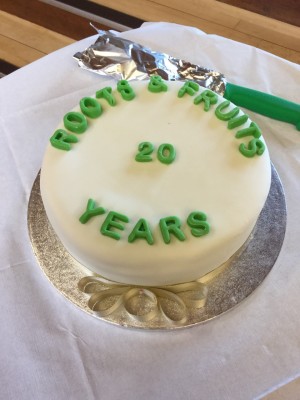 After a brief visit to the office in Haddington, I nipped down the road to Dunbar for an Afternoon Tea Party hosted by BeGreen Dunbar to advertise their new premises at 55 High Street.

Here I am with Chief Executive Rob Fryer, and again with the team after they had been presented with certificates by East Coast FM, whom they sponsor. My favourite radio station.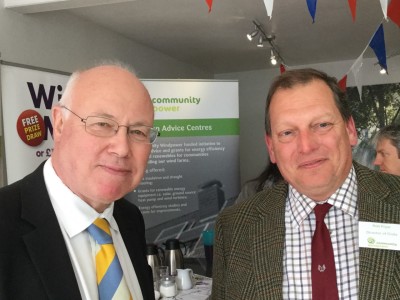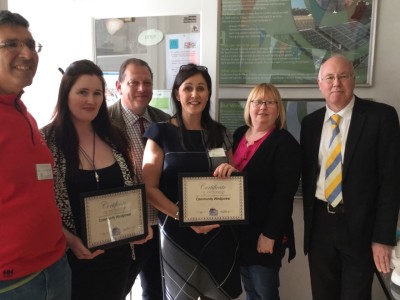 In the evening 
I went to the 6th year leavers event at Ross High School, Tranent. 
​​
Here they are, the class of 2017!
Lots of future lawyers, dancers, doctors, musicians, all in a rosy glow. But where are the engineers?
Just one made it to the stage to be congratulated by Paul Reynolds, who had a good word to say for everyone.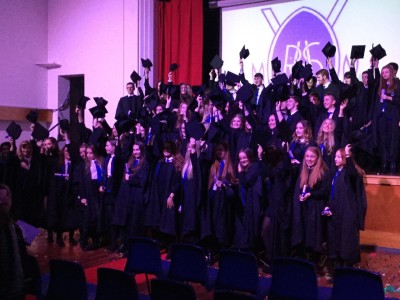 Meanwhile, my weekly column in the Courier appears every Thursday. You can read it by scrolling down on the right-hand side.
Today began again in Wallyford, where I helped Lemac staff, Edinburgh University students and volunteers load the latest container-load of essential supplies for the refugee camps in Greece.

There was a positive army of us, and we managed to pack away 215 bags of clothes, 50 boxes of nappies, 30 sleeping bags/duvets, 22 baby carriers, 20 pushchairs, 20 cots, 18 boxes of toiletries, 15 bags of footwear and two wheelchairs. 
Here is the first group of us together. Ten minutes later another 15 people had arrived, many of them carrying more supplies.
Thank you, East Lothian.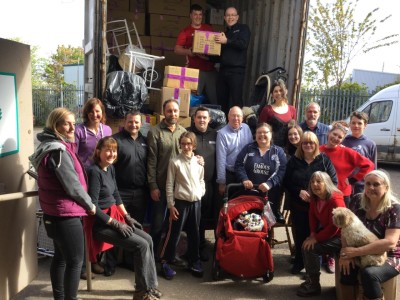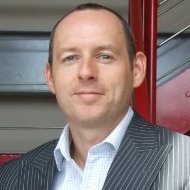 On to Dunbar to catch up with Scott Sutherland at Marott Graphics. We've now managed to get his XCP rust-blocker as far as Boeing, where we hope it will be trialled soon.

Scott is on the Parent/Teacher Council of Knox Academy, which does seem to encourage engineering projects, with his help.

And then to my last round of surgeries, starting at Bleachingfield, continuing on to St. Andrew Blackadder, North Berwick, and then at the constituency office in Haddington. 
I cease to be an MP at midnight next Tuesday, 2 May.

But my office will continue to deal with unfinished casework up to the day of the General Election, 8 June.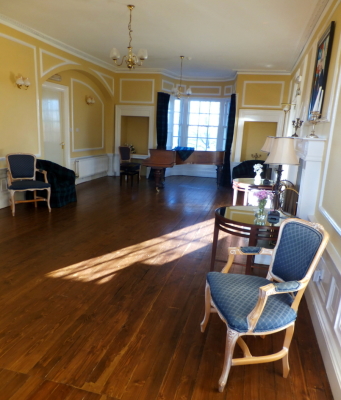 Tonight I went to the launch of the Friends of Cockenzie House & Gardens in the beautiful Cadell Room.

There was harp music from Rita Bradd and Holly Hart, and talks about the House and the Waggonway which skirts it from Bryan Hickman and Ed Bethune.

I hadn't realised that Walter Scott and the painter Turner came here, but the Friends have exciting plans to make people more aware of the history.
They are planning a book festival in the autumn - and a beer festival in the summer - so I shall make certain to come along and support them.
Today I travelled back to Westminster for the last time before the fortcoming General Election, pleased to have been adopted yesterday evening as the SNP candidate for East Lothian.