Despite the Easter holiday I still contribute my weekly Monday column to The National. This week I look at how Scotland's economy is faring.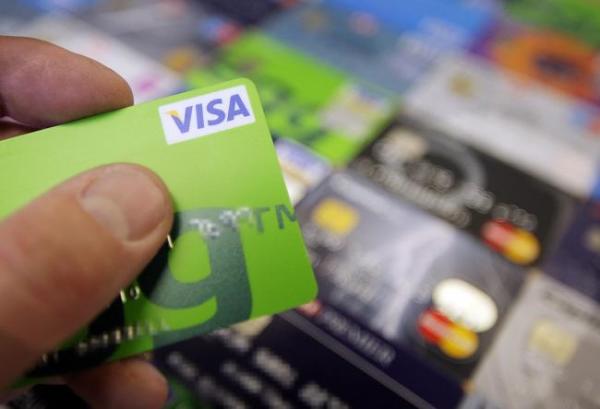 Ignore the 'official' reports – Scotland is weathering this economic storm

WHAT is the true state of the Scottish economy? If you only read the BBC or the partisan Unionist media, you'd be forgiven for believing the local economy had imploded.
True, figures out recently indicated that growth in Scotland slipped by a whisker (0.2 per cent and subject to revaluation) in the final quarter of last year.

Enter the BBC's economics editor, Douglas Fraser, who was quick to begin his blog by pointing out that if – note the word "if" – there was a second successive quarter of contraction, Scotland would be in a technical recession. Well done, Douglas. It's absolutely true that if – hypothetically – Scotland did have two quarters of negative growth, it would qualify as a recession. But speculation does not make it so, even if it helps enliven an otherwise vacuous column.

You can read the full column HERE

http://www.thenational.scot/news/15227835.George_Kerevan__Ignore_the____official____reports_____Scotland_is_weathering_this_economic_storm/

Back to Westminster after the Easter break. The House of Commons continued its business as usual but mid-morning everyone's attention was taken up by Theresa May's announcement from Downing Street that she was calling a snap General Election. Even the Tories were surprised.

Sometimes you wait ages for a bus and then two come at once. Well today I got two turns to speak in the Commons. The first was to ask a question of the Chancellor and his team.

You can watch me make the point and the Treasury Minister's reply HERE

Later in the evening I summed up for the SNP in the debate on the Government's Finance Bill, highlighting the fact that what economic growth has been registered in recent weeks and months was dependent on consumers piling up debt, and that is not sustainable.
You can watch my speech HERE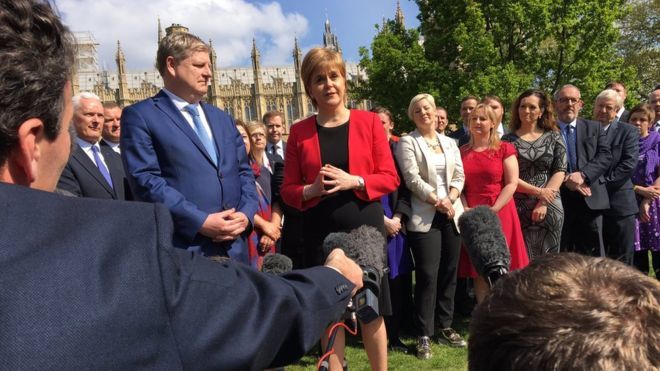 Today I was pleased to join Scotland's First Minister, Nicola Sturgeon, outside the Houses of Parliament where she spoke to the media about the upcoming General Election.

My weekly column was published in the Courier today. Just scroll down on the right-hand side to read it.
A welcome day in the office in Haddington, answering constituents' queries and planning my Spring Roadshow.

Having covered the towns and villages where I don't hold regular surgeries during my Spring and Summer Roadshows last year, I decided to concentrate on the housing estates this year.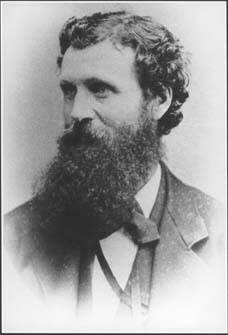 Of course today was John Muir's birthday.

He was born in Dunbar on 21 April 1838.

Which makes him 179 years young.

This morning I set off at 10.30am for the Mucklets, Musselburgh, where I held an open-air surgery at 11.00am.

Lots of joggers and cyclists, including a whole detachment on their way to the sixth annual Pedal on Parliament, in which thousands of cyclists took part.
On to Wallyford to chat to constituents outside the Day-to-Day store, and then to the Carlaverocks in Tranent.

A stop for lunch at Giancarlo's, which was excellent, as ever, before finishing the day in Prestonpans, at the Scotmid store in Redburn Road, discussing various issues with constituents. 
Amazingly, there didn't seem to be any major problems - although life always looks good on a sunny Saturday afternoon.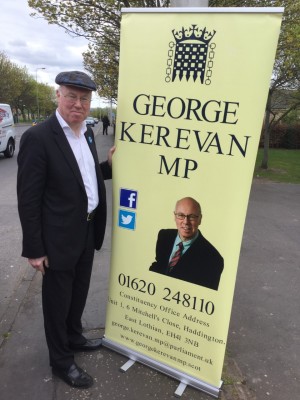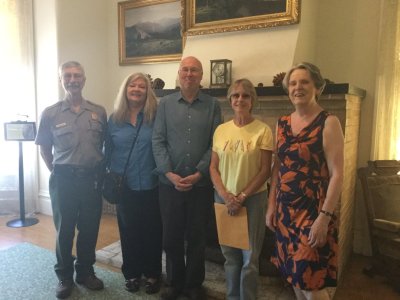 I ended the day at the Backlands in Dunbar, where North Light Arts were celebrating John Muir Day  and Earth Day by launching their Knitting the Rainbow Garden project.

This will turn a small walled area into a dyers' garden, with a range of plants used for dying fabrics, and builds on a suggestion from last year's John Muir Artist-in-Residence, Kathy Beckett.

Meanwhile, in Martinez, California, our friends from the John Muir Association welcomed 3,200 visitors to the John Muir Historic Site, smashing last year's record of 2,700.
Here we are with Tom Leatherman, Sherida Bush and Mary Ann Gaebe in John Muir's sitting room last August.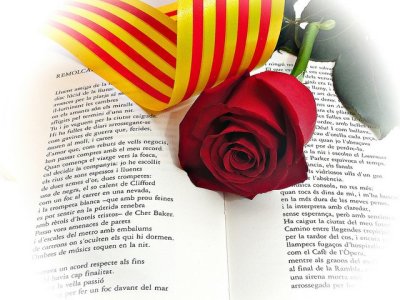 St. George's Day, and I was very touched to receive a card from my Catalan friends. 

St. George, of course, is the patron saint of Catalonia.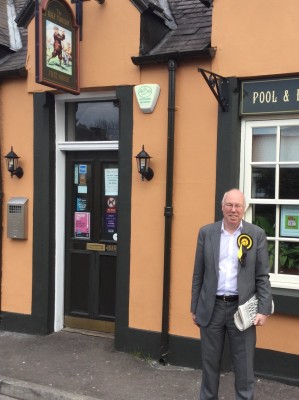 After I'd finished my article for The National I hit the road again for the second day of my Spring Roadshow, visiting Pencaitland, Haddington, Dunbar, North Berwick and Longniddry.
There was a particularly warm welcome for me at The Golf Tavern, Haddington where the bar was packed out with folk watching the Celtic/ Rangers game.
Home for a bite to eat and then back to Haddington for a stirring Gala Piano Recital by Leslie Howard in the Town House.

He played Beethoven, Grieg, Liszt and Mozart, and afterwards we all celebrated the Concert Society's 30th birthday with fizz and chocolate pianos.

Yes - chocolate pianos.
_______________________________________________________________________________________________________________________________