My weekly column for The National newspaper appeared today, as usual. This time I'm writing about Barcelona.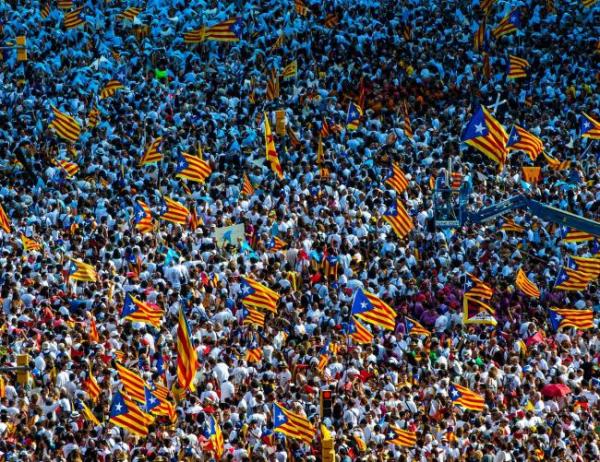 BARCELONA in April is full of tourists enjoying the spring weather. But the clear blue skies and balmy temperatures belie an underlying political tension. Most visitors miss the angry headlines in the Catalan press. For Catalonia is edging towards a major confrontation between the minority, right-wing People's Party administration in Madrid and the governing Catalan coalition in Barcelona.
The Catalans are bent on holding an independence referendum come September despite fervent opposition from Madrid. It is a classic case of an irresistible political force hitting an immovable political object. Where matters will end in a scant six months no-one cares to venture. The rest of Europe is fixated on Brexit, but the real political fault-line in the continent now runs down La Rambla, Barcelona's famous (and crowded) thoroughfare. It's a fault-line with a history.
:http://www.thenational.scot/news/15213838.George_Kerevan__Forget_Brexit_____the_true_European_faultline_today_is__in_Barcelona/
Today began at Macmerry, where I accompanied Paul Wheelhouse MSP, Minister for Business, Innovation and Energy on a Ministerial visit to Sunamp, a company he obviously knows well.

Sunamp designs, produces and sells non-toxic, compact, highly efficient heat batteries that can be used to store heat for a number of applications including many renewable and low carbon technologies. The batteries are infinitely flexible, able to store waste heat from biomass plants, from factories and even from old mine workings, and deliver heat and hot water on demand.

​
The company was founded in East Lothian and incubated at Elvingston Science Centre before moving to its present premises. But now it needs to expand again, and East Lothian Council appears to have no premises for rent of the size it needs. It would be a tragedy if Sunamp were forced to move out of the county, but that is looking very likely at the moment.

The next Council must invest in more business premises. This is not good enough. It should be doing everything possible to retain the businesses it has, and attract new ones, especially when the shadow of Brexit is hanging over us. We have a number of innovative businesses here, and they should be given every encouragement to grow and flourish.

Here I am with the Minister, Andrew Bissell, Founder and Chief Executive - and a Sunamp battery.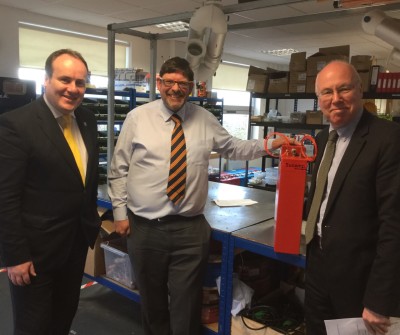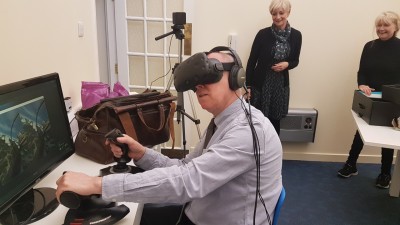 Then it was back to the office in Haddington to meet Billy Agnew for a demonstration of Viarama, the virtual reality of experience which makes you feel that you are inhabiting a new and sometimes exotic world.

I found myself standing underwater on the deck of a wreck, and had a brief encounter with a whale which knocked me completely off balance.
But Billy wants to use Viarama
 in a variety of sectors including education and healthcare. He's committed to delivering first class VR to Scotland's schools and nursing homes, and I support him wholeheartedly in that. 
Contact this office for further details
Then on to business meetings, one with the team who are seeking to  redevelop Musselburgh Old Course, who wanted to explain their plans, and another with Tomasz Sidor, to catch up with the progress he is making with his Ecoready Houses. These would be ideal for war veterans, so I have put him in touch with my old friend Peter Wilson, who is working in that area.
This morning I was given a new insight into farming methods last week by three young farmers I met back in March, when a delegation from the Scottish Enterprise Rural Leadership Programme visited Westminster.
Organised by Natasha Findlay from Pitcox Farm outside Dunbar, the tour began at Kilduff, a family farm where Russell Calder is experimenting with new techniques for growing crops, and progressed to Cockielaw, a contract farm responsible for estates all over East Lothian managed by Chris Leslie.
Our discussion ranged over the cost of land, the lack of support from banks, the problem of finding farm workers – and of course the possible impact of Brexit. Here we are together at Kilduff, listening to Russell Calder.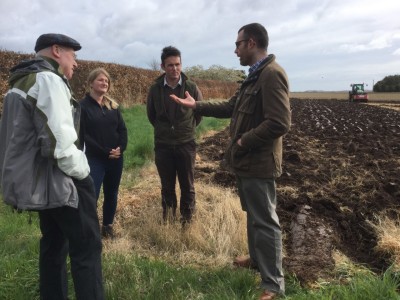 Natasha and her colleagues are passionately devoted to the land. Ideally they would like to see agriculture fully devolved to Scotland, so that we can set up systems which suit the variety of conditions we have throughout the country and regulate them ourselves.

Furthermore, with all these new people moving into East Lothian, many of whom will come from an urban background, the farmers feel that there needs to be more education in how to behave responsibly in the countryside. I was surprised to hear how many people tramp through growing crops, leave gates open and fail to control their dogs. Perhaps we need to develop programmes in schools to get the message across.

Farming is the lifeblood of East Lothian. It needs our understanding and support.

​Then on to Dunbar to meet up with the Fishermen's Association, who are still campaigning for representation on the Harbour Trust Board. Dunbar is the biggest fishing port in East Lothian, with 39 boats fishing out of Dunbar, so it seems logical that the fishermen should have the right to a say in the use of the harbour. I will be taking the matter up with East Lothian Council after the elections.

My day ended at the office with an interview about the Lloyds Reading case. As Chair of the All-Party Parliamentary Group for Fair Business Banking, I keep a close eye on the banking scandals as they arise, and am often asked for my opinion.
My weekly column appeared in the Courier today, this week on the state of the Scottish economy. Scroll down on the right-hand side to read it.
To Prestonpans this morning for a look at the new Capital Credit Union branch in Aldhammer House, a very useful facility.
Then on to Whittingehame and Karele,
 to see how Catherine and Jeff Ferguson are using equine-facilitated activities to promote wellbeing in children, young people and adults. I arrived just as a party of eight from Children Inc. was leaving, regretfully, after their Animal Encounter Session, having just booked for the next.
Karele is named after the Fergusons' three daughters, and the whole family is involved. They have 14 horses, and offer a range of practical activities, beginning with leading the horse from the paddock, and progressing to walking them through a created path in the outdoor school. Riding lessons are available on request.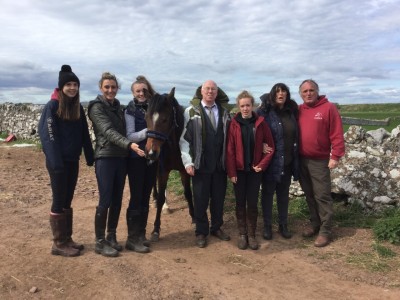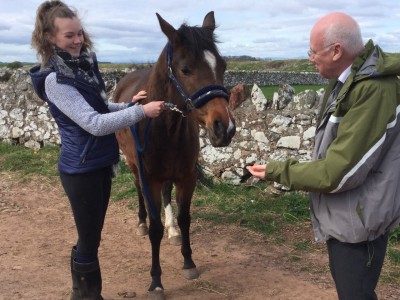 I had a wonderful morning with the Karele team and the horses, and I can see how building a relationship with a horse can increase self-confidence, especially for young people.


Karele was only founded two years ago, but Catherine has years of experience of social work, and has structured the sessions so that they fulfil the Scottish Government's requirements for Getting It Right For Every Child. And Jeff is an ex-engineer who is currently drawing up plans for a modest building to provide toilets, a tack room and a quiet space for autistic clients.


We are very lucky in East Lothian to have so many imaginative individuals who are coming up with new ideas for all age-groups who need a bit of extra help. Karele is to be congratulated.