The Westminster Parliament was not sitting this week so it was a wonderful opportunity to catch up with issues in East Lothian.
Of course, my column appeared as usual in The National newspaper today, with a fine photograph of the Speaker.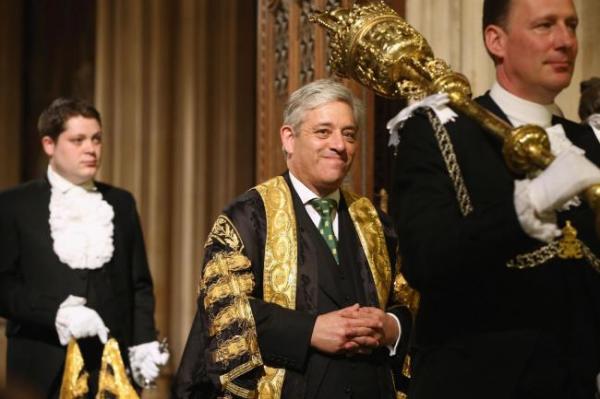 George Kerevan:

Westminster is a toothless old dog, and nothing Speaker John Bercow does will change that

SOON after I was elected an MP in 2015, Speaker John Bercow invited me as a new boy for tea at his ornate Westminster apartments next door to Big Ben. He is an affable bloke, though with a certain air of self-importance. As is his wont, he was more than frank regarding other members of the Commons. "Parliament is intimate like a small village," he mused. "Except with more than one village idiot."
His frankness has now gotten him into deeper political manure. First came his public refusal to grant President Trump the privilege of addressing the combined Houses of Parliament in the great cavern that is Westminster Hall, that most hallowed bit of the Palace of Westminster. Now Bercow has roused the wrath of the pro-Brexit Tory Little Englanders by remarking – in private to a group of students at Reading University – that he voted Remain. Note that the Speaker made these remarks on February 3, three days before his comments about Mr Trump. The fact that the tape has now been leaked to The Sunday Telegraph suggest Brexiteers – who remain paranoid there is a plot afoot to derail their mad plan to return to the 18th century – are anxious to get rid of Bercow as fast as they can.
You can read the full article HERE
http://www.thenational.scot/news/15087322.George_Kerevan__Westminster_is_a_toothless_old_dog__and_nothing_Speaker_John_Bercow_does_will_change_that/

Constituency Visits: Tranent

This seemed like a good time to catch up with Tranent, where the High Street is in the process of change, good and bad. First stop was Giancarlo's Restaurant, which I have been meaning to visit ever since it opened. Local Councillor Kenny McLeod was on hand to introduce me to Giancarlo and his staff, who provided us with an excellent lunch. No wonder the restaurant is packed out every time I pass. Try the spaghetti carbonara, the best I've had for years.

We had an interesting discussion afterwards about the social scene in Tranent. Giancarlo feels that it needs events which will draw people in from other parts of the Lothians, and I agree. Maybe the new Fraser Centre will help there, providing a base for new activities.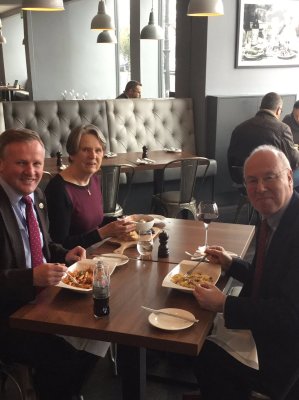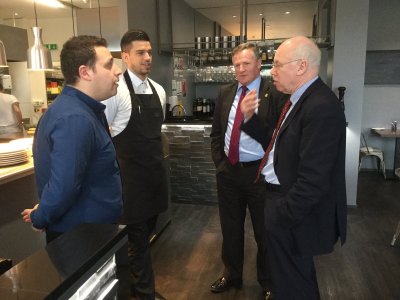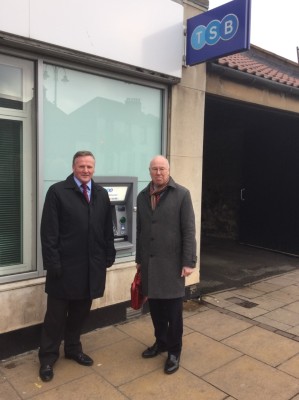 ​A good espresso, and across the street to the local branch of the Trustee Savings Bank, which is being closed down, along with 16 other Scottish branches.

Looking at the opening hours for the Tranent branch - closed at lunchtime and on Saturday mornings, Cllr. McLeod and I could see immediately why the footfall had declined.
I protested to TSB management as soon as I heard, pointing our that new and proposed housing in the Tranent area will result in an increased need for local banks, and received the standard letter back.

So I am calling a meeting at Westminster of all the MPs whose constituencies will be affected, as I believe that joint action is the best way to embarass TSB headquarters.

We then went on to look at two more local issues: Tranent Cemetery, where new housing proposals will make it impossible to expand the site much further in the future, and Polson Park, where the sports pavilion is not fit for purpose and a very long way from the sports pitches.

Cllr. McLeod tells me that there used to be a Friends of Polson Park, which cared for the flower beds - now gone - and the magnificent bandstand. He is going to look up the list of past members and see if it might be possible to revive the organisation. But the pavilion is the business of East Lothian Council, and needs immediate attention. Already referees are refusing to use the room set aside for them.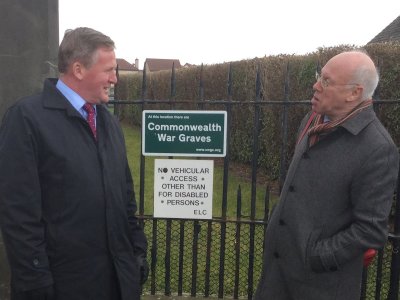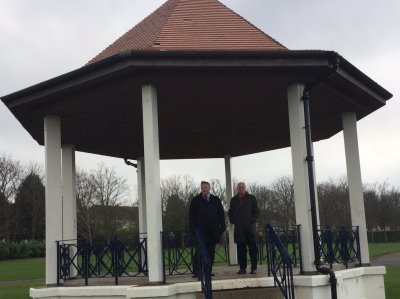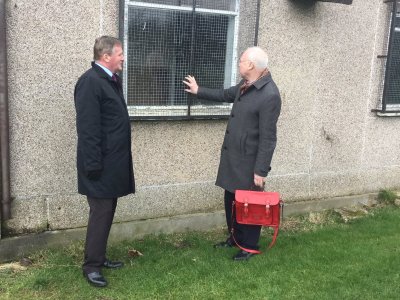 Media Coverage

The BBC carried a short interview on my concerns regarding the sell off of the Co-op Bank. You can read it HERE
http://www.bbc.co.uk/news/business-38988604

The Financial Times featured me in an article on the Royal Bank of Scotland's financial recovery arm and its ill-treatment of small businesses. You can read it HERE

https://www.ft.com/content/316d05c6-f4fe-11e6-95ee-f14e55513608

Valentine's Day, celebrated with the traditional red roses and chocolates. I hope you did the same.
Constituency Visits: Prestonpans
Another town in the process of change, and I was glad to see that The Goth is continuing to do well under its (fairly) new management. I met Cllr. Steven Brown there for a tasty bowl of soup, and Sean Wood was on hand to say hello.
There are some serious issues to be resolved in the Prestonpans area, the first being the future of the Cockenzie Power Station site, which East Lothian Council has still not managed to buy. This could be such an asset to the local community - who have already grasped the opportunity to suggest uses for the site - that Steven and I hope to hear soon that Scottish Power have agreed to sell it to the Council.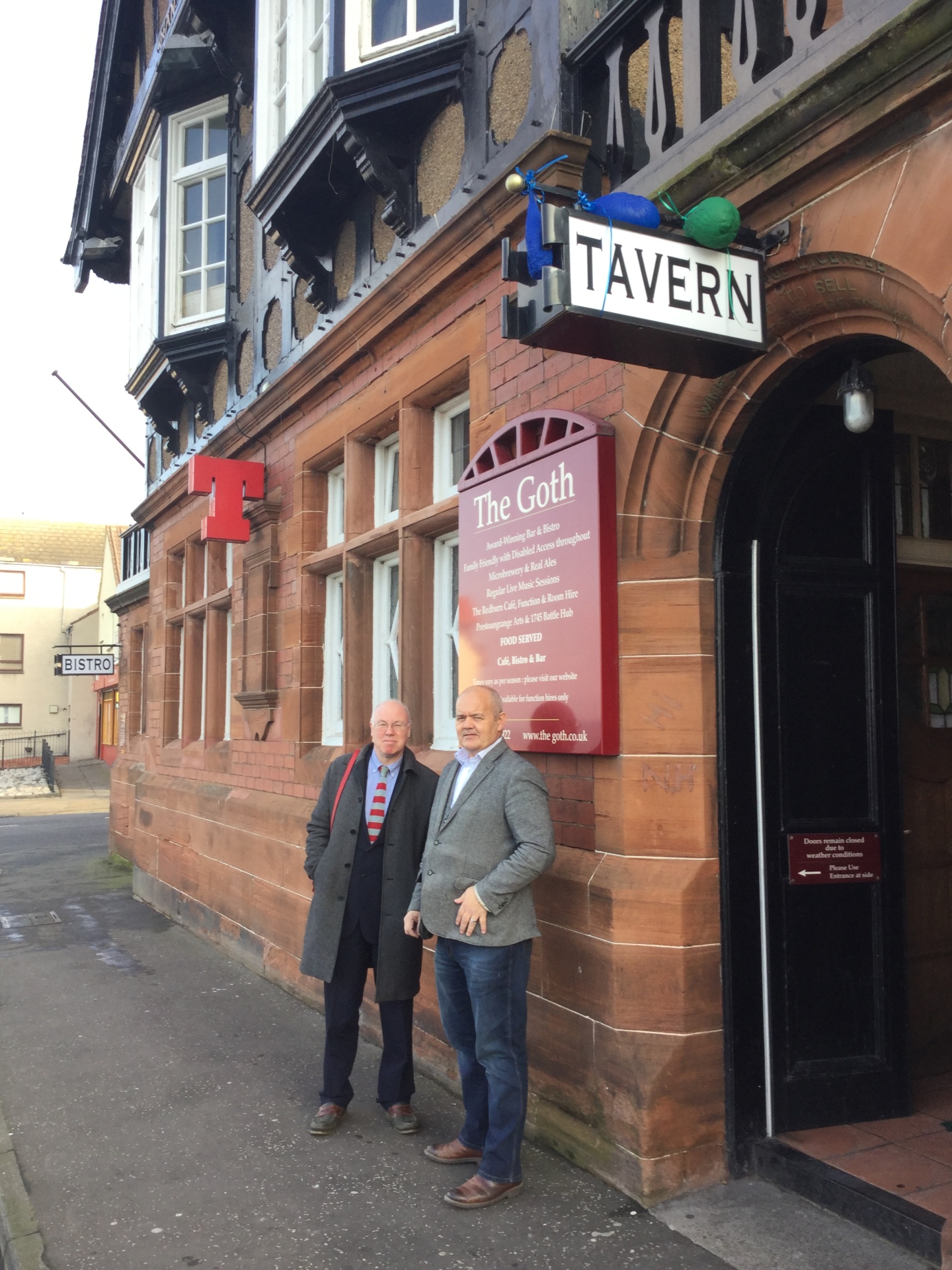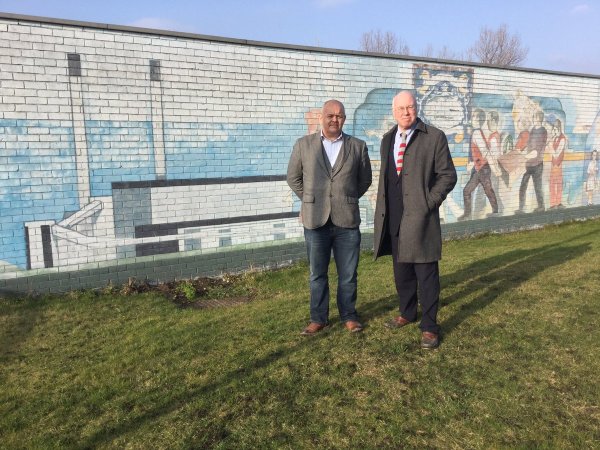 We continued on to Cockenzie House, where the current Council has granted planning permission for a care home in the historic gardens. These are the very gardens where the Scottish soldiers celebrated after winning the Battle of Prestonpans, picking apples from trees which are still there. I was not surprised to hear that Cllr. Brown had voted against.

It has been suggested recently that Cockenzie House would make an ideal interpretation centre for the Battleand Its gardens should certainly be preserved.  What about St. Joseph's, that extensive complex of land and buildings at Meadowmill, which is crying out for redevelopment.
Cllr. Brown and I also discussed the planning permission for a substantial sub-station on the Battlefield site, which is up for renewal. How it can ever have been granted I can't understand. East Lothian needs a major rethink on the tourism potential of battlefield sites.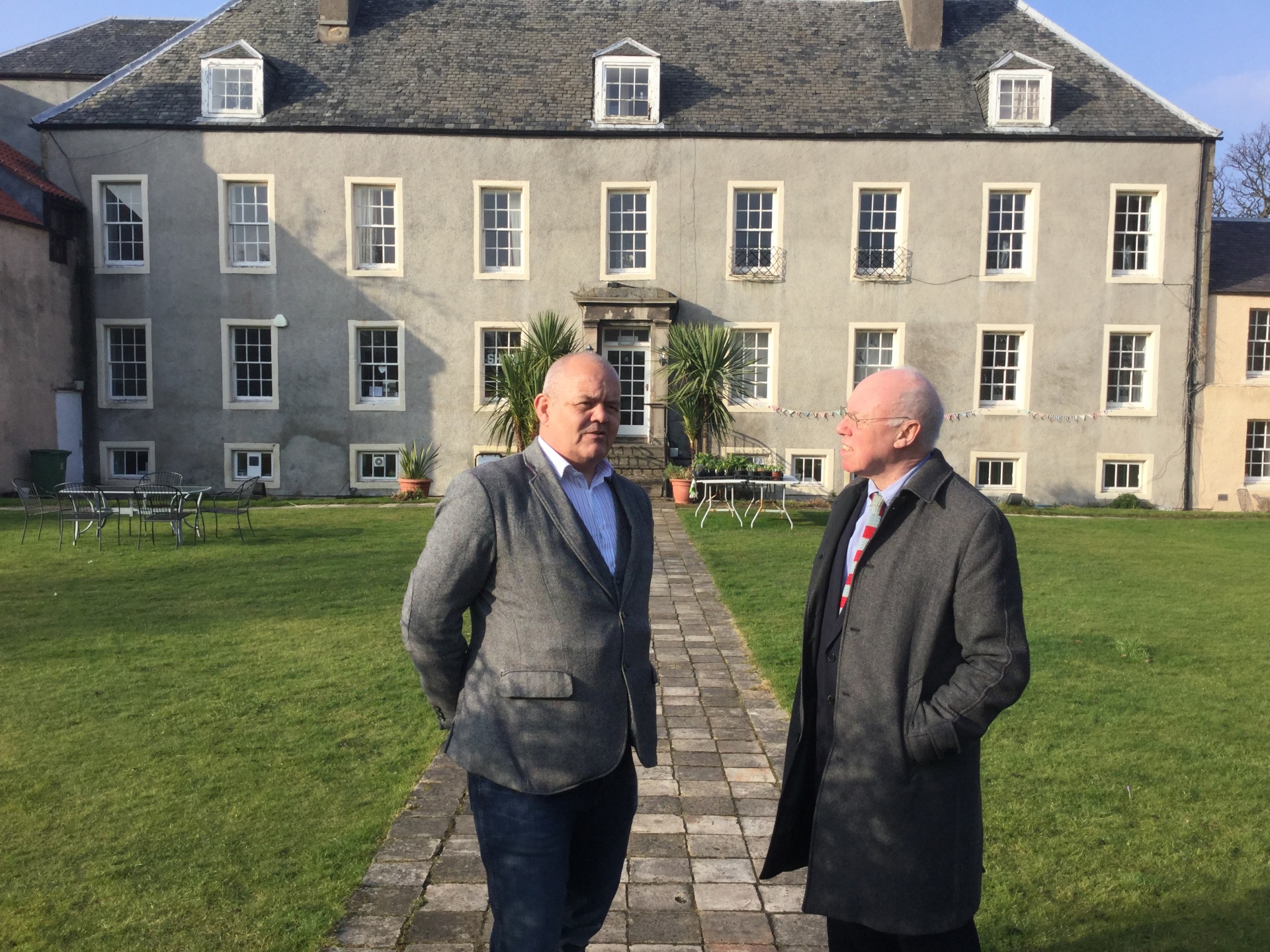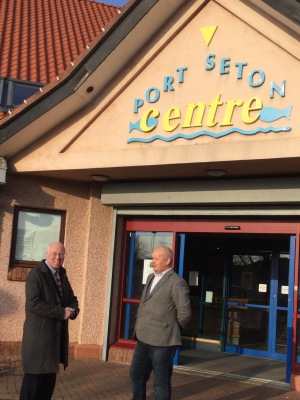 Finally, to Port Seton Centre, which I know well, as I hold a monthly surgery there.

I also visit the library regularly, for their interesting programme of local history exhibitions, and I've attended sessions on the masterplan for the Cockenzie Power Station site.

It's a very useful faciity, but needs upgrading and extending.
This time Cllr. Brown wanted to talk to me about the new sports facilities, agreed by the Council a year ago. There is no sign yet of the two new pitches which were promised for last autumn, and the fine new sports hall, badly needed, shows no sign of materialising soon.
I live in hope of a speedy resolution of the problem.
I spent today in Edinburgh, a city I rarely have time to visit now, beginning with a visit to the Scottish Building Society, the oldest building society in the world, and the only one based in Scotland.

Chief Executive Mark Thomson was proud to talk to me about their policy on loans for non-standard properties. A number of my constituents are interested in building their own houses, or buying the eco-ready kit houses coming on to the market, but the problem is always the mortgage. Knowing that the banks are unwilling to lend to this sector, I thought I should try the building societies, and was encouraged by Mark's positive attitude. Here I am with Mark and Vice-Chairman Raymond Abbott, in front of their fascinating montage of famous buildings across Scotland.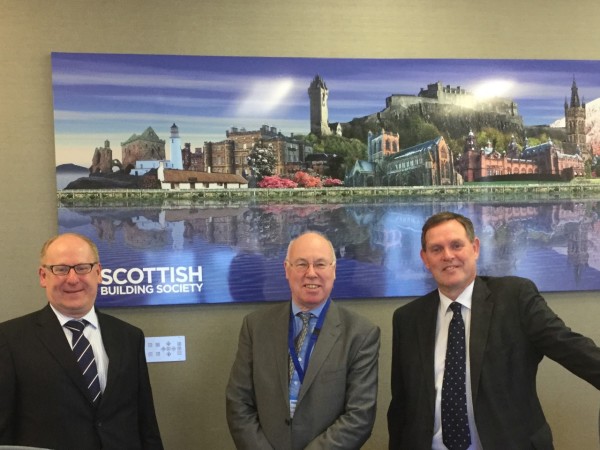 Then I went on to a meeting with Ian Fraser, author of 'Shredded: Inside RBS, the Bank that Broke Britain', which I do recommend.

I will be meeting RBS Chief Executive Ross McEwan next week, and it's important to be well briefed.

I'll be asking him why the RBS branch in Prestonpans is already up for sale when he told me they would be reconsidering the closure in May of this year.
​
And finally to a meeting with Lynn Harrison, the constituent who won her case last month against the carer who defrauded her aunt of over £43,000.
Lynn believes that there are many cases like hers, and wanted to introduce me to Lesley Karchary, who runs Action Against Elder Abuse, since she will be working with them in the future. I offered them all my support.
Back to Tranent this morning to meet Louis Stedman-Bryce, Director of Beyond Homecare, which took over homecare in Tranent last year. Beyond Homecare provides tailored support packages, and is piloting new methods of delivering care, which involve streamlining systems and identifying where technology and innovation can improve their customers' experience.

I was impressed by the professionalism of Beyond Homecare and their attention to detail. They call their carers Superheroes and are working hard to raise the profile of the caring profession, which becomes more and more important as we all live longer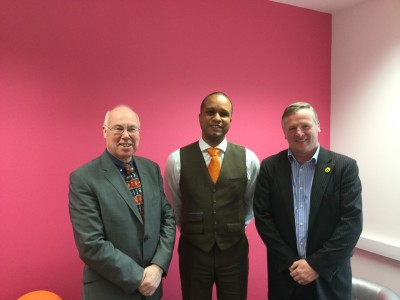 They're currently piloting NurseBuddy, a care management system developed in Finland, which links care managers, customers and their families using mobile technology.

The system allows family members to access care information for their relatives from anywhere in the world by using a secure online portal. They can review what care was provided, at what time and by which caregiver.

NurseBuddy also helps care managers identify any potential problems or concerns much sooner than was previously possible using more traditional monitoring methods. ​

Here I am with Louis and Cllr. Kenny McLeod in Beyond Homecare's colourful meeting room.


Then it was time for a quick check on the Fraser Centre, where David Orr is heroically working away on the funding for the project, and expecting some news on grant applications very soon.
This will be such a wonderful resource for Tranent that I can't wait to see it happen.
The restricted space they have there at the moment is already bursting at the seams, and the prospect of a purpose-built community centre with proper facilities for showing films and holding classes is very exciting.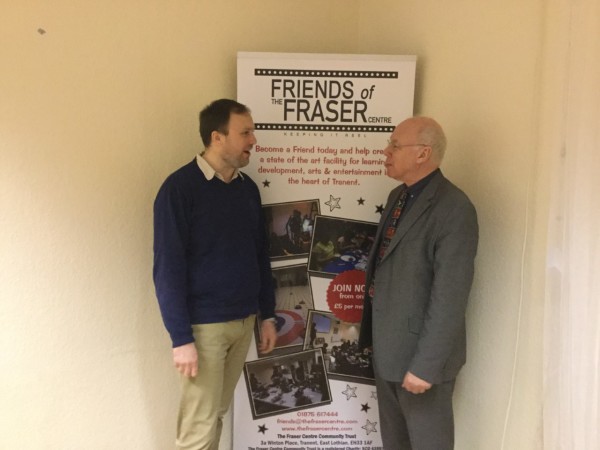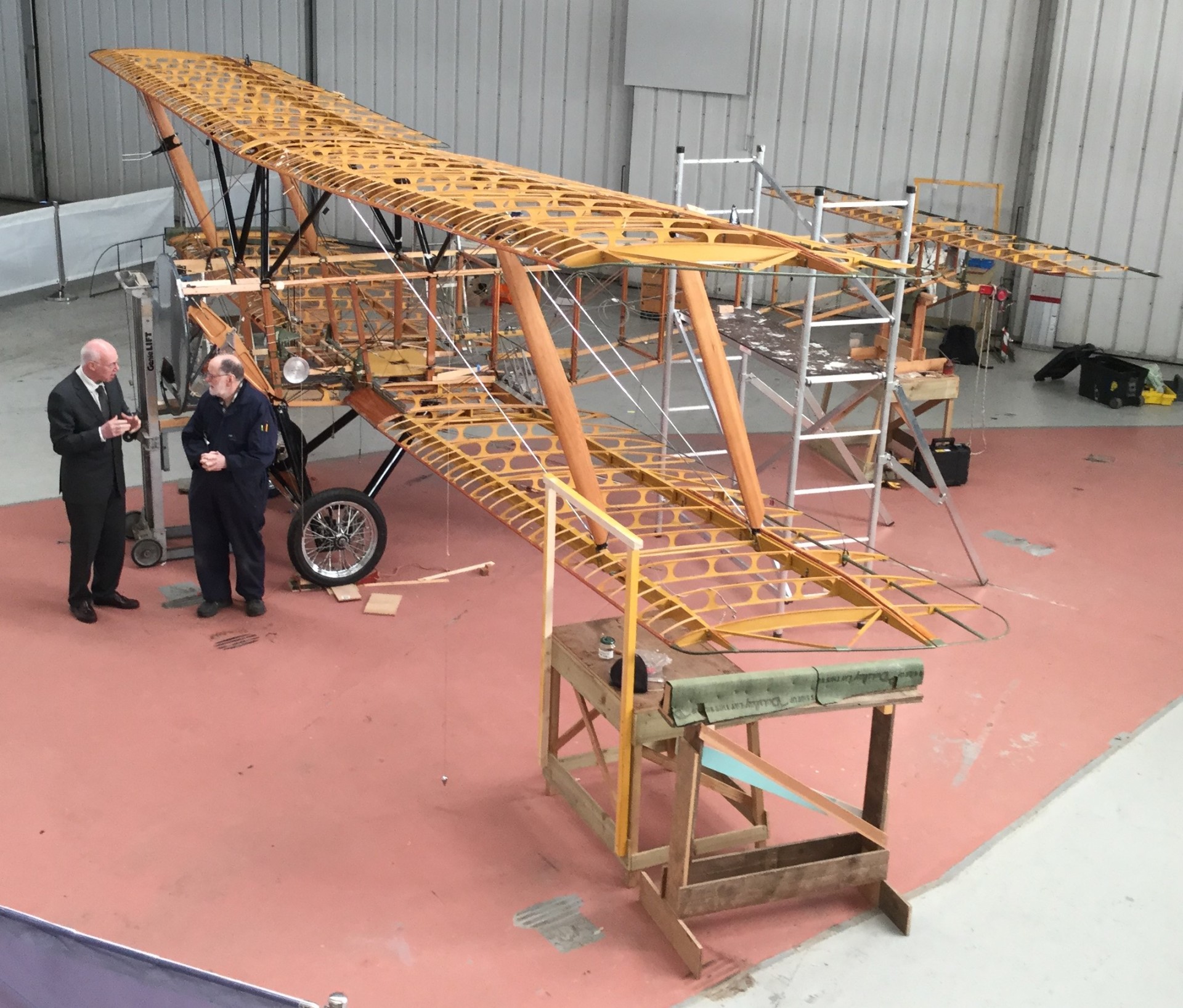 Back to Edinburgh for a couple more meetings.

The first was with Dr. Gordon Rintoul, Director of the National Museum of Scotland, to discuss two issues which have been concerning me. The first is accommodation for the Sopwith Strutter replica, which has been lovingly recreated by members of the Aviation Preservation Society of Scotland in one of the buildings at East Fortune. It now needs a new home, which does not seem possible on site.
Dr. Rintoul argues that there is no spare hangar available, and it will never be able to fly from East Fortune, as the local farmer owns half of the runway, which he uses for East Fortune Sunday Market.
It would be a pity to see such a beautiful and historic aircraft move out of East Lothian.
The second issue was the omission of the Prestonpans battlefield site from the new guide to Jacobite battlefields produced by the National Museums of Scotland, Historic Scotland, the National Trust for Scotland,and VisitScotland.

Although this is planned to exploit the interest in the TV series 'Outlander', the only battle sites it features belong to the organisations which have funded the guide. I pointed out that the Battle of Prestonpans was featured in 'Outlander' and is, after all, the battle the Jacobites won, and Dr. Rintoul agreed that it was a significant omission. He thinks it can be corrected on the website.
Finally, I met with Andrew Mackenzie, Director of Veritas, the new joint venture company which has been set up to help Scottish firms and individuals who fell victim to Royal Bank of Scotland's Global Restructuring Group (GRG) between the time of the financial crash in 2008 and 2013. 
Companies across the UK were devastated by what became known as the bank's "dash for cash" after the financial collapse. RBS staff were said to have been encouraged to "provoke a default" from business clients to swell bank coffers, and bankers' bonuses were paid on the back of the activity. Veritas is working to extract compensation from RBS and, as Chair of the All-Party Group on Fair Business Banking, I offered my support.

After a meeting with a constituent at the office to discuss fiscal policy, I made for East Linton, where residents are understandably concerned about a proposal from David Wilson Homes for a new housing development at Preston Mains. I discussed the situation with Judith Priest and Robert Russel of Dunpender Community Council over a cup of coffee and a delicious scone at Smeaton Garden Centre cafe.
We agreed that this rash of new proposals will only stop once East Lothian Council has published its local development plan, and we should assemble the arguments against them now, so that we are well prepared. I agree with Judith and Roberts that development at Preston Mains would be inappropriate.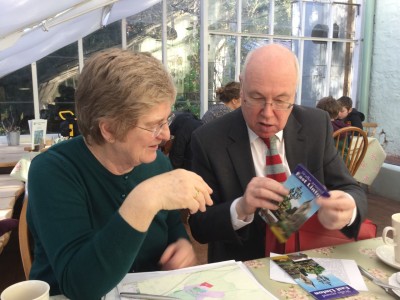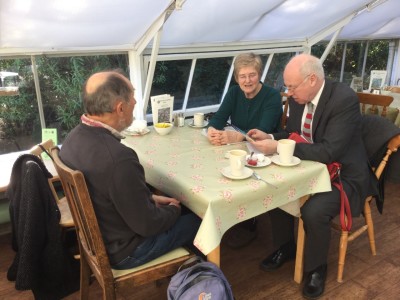 On to Dunbar for a meeting with Dee Davison about the future of the Dunbar Science Festival, one of the jewels in East Lothian's crown. When I heard that the Festival would not be happening this year I guessed correctly that the organisers needed to take a year out to regroup. This is a huge undertaking, staffed only by volunteers, and they need to think about applying for charitable status and finding a way to fund at least one member of staff.
Dee reassured me that the Festival will be happening in 2018, and I look forward to attending it.
Then I made my way back to Haddington for two further meetings, with Chief Inspector Matt Paden about a couple of police matters, and with the Citizens Advice Bureau, who have a few problems in obtaining GP letters to back up applications for benefits. Both meetings were extremely helpful.
I write an article in the East Lothian Courier every week which you can read by scrolling down the right side.
My final meeting of the week was at Elphinstone, where members of the Community Association are concerned about the housing development planned for the outskirts of the village.

In particular they are worried about the impact of construction traffic during a possible five years of building, in terms of road safety and air quality. At the same time they are looking for information on the improvements to the infrastructure, including utilities, broadband, public transport, healthcare and the expansion of the primary school, which will be needed.
I agreed to pursue these questions on their behalf. Here I am discussing the Housing development with Megan Houchin, Stuart Mackenzie, and Cllr. Kenny McLeod, who has relatives living in the village.