Today I returned to Westminster, where I attended to my correspondence with constituents, colleagues and other interested parties.


Scotland's First Minister, Nicola Sturgeon, was due to address the SNP MPs Group but, unfortunately, fog at Heathrow meant her flight was cancelled!

Meanwhile, my column appears in The National newspaper every Monday. This week, of course, I wrote about Robert Burns, it being that time of year.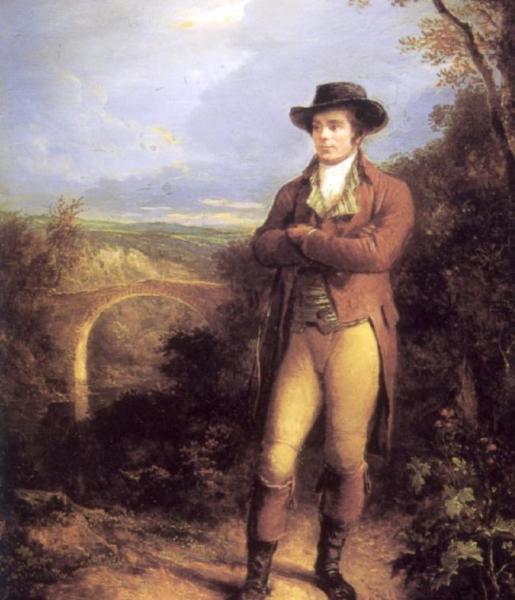 Burns has global reach as he was a visionary who wanted a better world

THIS week around the world people will be celebrating the 258th birthday of Robert Burns, Scotland's national bard and one of the greatest poets and lyricists of all time. But why has the ploughman poet from rural Ayrshire retained such universal affection to the extent that folk around the globe will gather publicly to toast his name?
Robert Burns was not just a great poet – he spoke for his times. And because he spoke for his times, he spoke for all time about the better human society we all want to live in. Including a free and independent Scotland.

You can read the full article HERE
http://www.thenational.scot/comment/15040360.George_Kerevan__Burns_has_global_reach_as_he_was_a_visionary_who_wanted_a_better_world/

After writing my weekly column for the East Lothian Courier I attended the Treasury Select Committee. This morning we questioned the UK's future relations with the EU, focusing on the car and aerospace industries.

You can watch the session HERE

In the afternoon the House of Commons debated the proposed Charter for Budget Responsibility. I led for the SNP and took the opportunity to ask the Chancellor of the Exchequer whether rules were rules and why he did not stick to them.

You can watch the exchange HERE

Because of my presence in the Chamber I was unable to attend a parliamentary briefing on unaccompanied refugee children in Europe hosted by Lord Alf Dubs + Heidi Allen MP.

Fortunately my wife, Angela, was working in the Westminster office this week and attended in my place. Lord Dubs took evidence from Unicef UK, the British Red Cross, Save the Children and Safe Passage, who all agreed that the closure of the Jungle in Calais has led to further problems, which are unlikely to be solved by 21 April, the cut-off date for dealing with the Calais refugee children. They asked that the deadline be extended and the criteria for entry into the UK simplified to vulnerability.

Lord Dubs He has been very active in supporting refugees trapped in Calais. He was of course one of the Kindertransport children, young Jews allowed to leave Nazi Germany for the UK without their parents,  just prior to World War Two. Some of them came to East Lothian, where they were trained as agricultural workers at Whittingehame.  


SNP MPs work closely with our colleagues in Plaid Cymru and this morning, during Welsh Questions, I was pleased to ask what impact the Government believed there would be on Wales if we leave the European Single Market.

You can watch the exchange HERE

I then fitted in a meeting with Mastercard representatives. Mastercard is attempting to buy up the payments firm VocaLink, and the Competition and Markets Authority has expressed its reservations.

After the Mastercard briefing I understood why, so I immediately initiated an Adjournment Debate in Parliament on the takeover.

In the afternoon I attended the Treasury Select Committee, where we considered the regulation of the Insurance Industry.

You can watch the Committee proceedings HERE

The SNP Group at Westminster spent much of the day discussing strategy for the coming weeks. It promises to be a busy time, so we need to be well prepared.

The Green Investment bank, which I was instrumental in bringing to Edinburgh, is being sold off by the Government to a multinational, McQuarrie, and many fear asset stripping. Today back bench MPs called a debate in Westminster Hall on this matter, and I contributed.

You can watch my speech HERE

Following the decision of the Supreme Court that MPs will have to vote to trigger Article 50, the process of leaving the EU, the Government published a very brief bill, too brief in my view, which they want to get through Parliament quickly, too quickly I feel.

This afternoon I contributed to the debate on the Parliamentary procedure involved, making those points, as you can see HERE

Meanwhile, my weekly column was published in the East Lothian Courier. Scroll down on the right-hand side to read it.
Home just after midnight as usual, and up early for an update from Douglas Proudfoot, Head of Development for East Lothian Council, and Cllr. John McMillan, Cabinet Secretary for Economic Development and Tourism. There was lots to discuss: the City Deal, the promotion of East Lothian food and drink, affordable housing, the Cockenzie Power Station site.

Then on to Dunbar to meet Jamie Marshall of The Wave Project, who was about to publish his first Evaluation Report for September 2015 to August 2016.

I'm very impressed by The Wave Project, which seems to me a particularly imaginative way to improve the confidence of young people facing mental health challenges and social isolation though surf therapy.
It was originally set up in Newquay in 2010, and there are now six more branches, of which Dunbar is the only one in Scotland - though Jamie has plans for expansion.
Last year it worked alongside over 100 young people, and scored high success rates all round.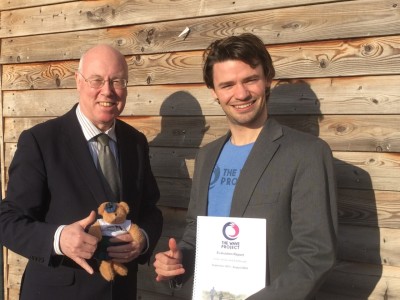 A quick cup of coffee and a home-made scone at Bleachingfield, and then it was time for my advice surgeries, this week in Dunbar, North Berwick and Haddington.

Back to Musselburgh for a meeting with Steve Lee and Alan McLarney about space and satellite technology at Astrosat headquarters, the wonderful Copernicus Kirk.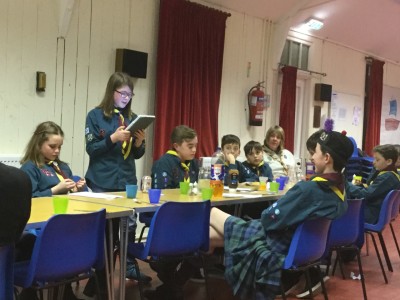 Finally, I ended the day with a lively Burns Supper, hosted by the 1st Cockenzie Scout Group. This was the third and last I attended this year - and the best, as I just had to applaud the performers.

Thanks for the excellent haggis, neeps and tatties, for Erin's bagpipe playing, for Eleanor's 'Immortal Memory', which cleverly worked in some unexpected references to Donald Trump, and for all the speeches, songs and recitations.
It was a great evening and I was honoured to be invited.
This evening I was kindly invited to dinner by Mr. Daiske Matsunaga, the Consul-General of Japan. We enjoyed delicious Japanese food and green tea while discussing history, economics, foreign affairs, Japanese cartoons - and vegetables.

The historic links between Scotland and Japan are stronger than some people realise. The Mitsubishi Group and Nikka Whisky both owe a debt to Scotland.
______________________________________________________________________________________________________________________________