I'm on the train to London early this morning, as I want to speak in the Defence debate scheduled for the afternoon. Meanwhile my column appears in The National newspaper as usual. Scroll down the right-hand side to read the full article, this week on the shortcomings of the Labour Party.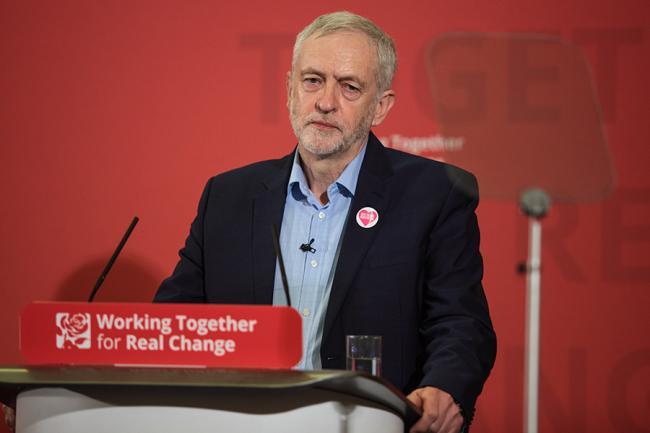 George Kerevan: Chaotic Labour have written Theresa May a blank cheque for hard Brexit
THE latest polls put Labour at their lowest point in seven years, on 25 per cent – a massive 17 points behind the Tories. For those who no longer trust polling data, there is harder evidence of the Labour Party's implosion: its disastrous showing in last week's Sleaford by-election. In a seat where it came second in last year's General Election, the party registered a seven per cent slump in its vote to finish behind Ukip and the LibDems. Last month, Labour posted losses in a series of council by-elections in their traditional heartlands. With the chatter at Westminster again forecasting a spring election, time is not on Labour's side to stage a recovery.
You can read the full article HERE

http://www.thenational.scot/comment/14959844.George_Kerevan__Chaotic_Labour_have_written_Theresa_May_a_blank_cheque_for_hard_Brexit/

Arriving in time for the Defence debate, I asked the Minister why the UK government is paying $400 million for each P-8 Poseidon aircraft while Norway is paying just $300 million dollars for five.
You can watch my question and her answer HERE

Later in the day the Treasury Select Committee interviewed the Chancellor of the Exchequer, Philip Hammond, about his Autumn Statement. Among other things he distanced himself from a hard Brexit, saying that he wanted a transitional period before Britain quit the EU.

You can watch the meeting HERE:

Christians Against Poverty
​I
n the evening I was happy to host the parliamentary launch of Christians Against Poverty's latest freedom report, alongside the Financial Inclusion Commission.
The report looks at the outcomes of over 200 clients who have become debt free through Debt Management Plans (DMPs) and Debt Relief Orders (DROs) up to five years ago. The findings show the important role debt advice plays in building financial capability and resilience to ensure people feel in control of their finances and stay free of problem debt in the long-term.


Caroline Rookes CBE, Chief Executive of the Money Advice Services, said, 'Christians Against Poverty embodies the combination of empathy and expertise that is essential to providing effective support to people with problem debt. This report spells out the impact that getting free, high-quality advice has on improving financial capability and avoiding debt problems recurring.


'The data collated in this report echoes the impact of debt advice services across the country in helping people to reduce their debts, take control of their finances and start planning for the future.'


Over 50 senior representatives from the credit and debt advice industries and MPs were in attendance.


The freedom report is available to read in full HERE
https://capuk.org/connect/policy-and-government/the-freedom-report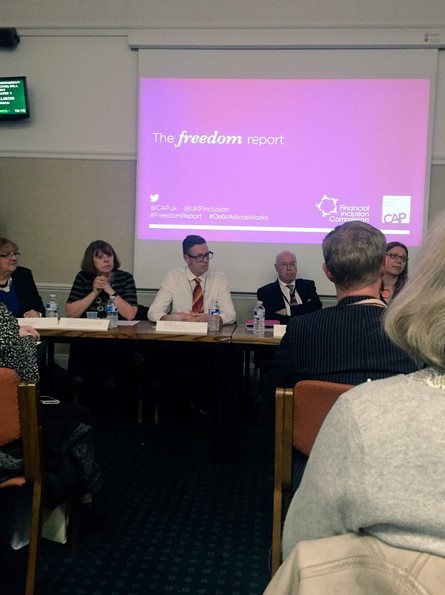 This morning the Treasury Select Committee interviewed a number of witnesses: Alexander Jan, Director of City Economics, Arup; Professor Jim Hall, Professor of Climate and Environmental Risks and Director of the Environmental Change Institute, University of Oxford; Andrew Rose, Chief Executive, Global Infrastructure Investor Association; and Richard Threlfall, Partner and Head of Infrastructure Building & Construction, KPMG UK .

You can watch the meeting HERE

First thing, with my colleague Michelle Thomson, I met with representatives of the Association of Business Recovery Professionals as part of our work with the All Parliamentary Party Group for Fair Business Banking.

Then, to mark Yemen Day, and as part of my ongoing efforts to help end the bombing of that unfortunate country, I attended a reception where I met a number of Yemenis living in Britain and heard their concerns.

Afterwards I attended the third Treasury Select Committee of the week, where we interviewed  Sam Woods, Chief Executive Prudential Regulation Authority and Deputy Governor for Prudential Regulation; Norval Bryson, External member; and David Thorburn, External member, Prudential Regulation Authority Board.


You can watch the meeting HERE


The UK has a problem with a lack of investment, and that's reflected in our poor productivity. A number of MPs, including myself and my SNP colleagues, support the creation of a Sovereign Wealth Fund to be used to increase investment.
Today we debated the idea and you can watch my contributions HERE

Since becoming an MP I've worked on behalf of small businesses in East Lothian and beyond who have been badly treated by their bank and have no way to resolve their complaints. At its most extreme it involved a special unit of RBS which drove small businesses into bankruptcy, buying up their assets and selling them back to the bank at a low price. RBS then sold the assets on at a higher price!

Today, as Chair of the All Party Parliamentary Group for Fair Business Banking, I was privileged to introduce a Back Bench Debate in the House of Commons on the creation of a commercial platform for the resolution of financial disputes.

It was an excellent debate and the Minister clearly took our points on board. The SNP MPs had a strong presence and rose to the occasion.

You can watch the debate HERE


If you have an issue with a bank or simply want to find out more about the APPG for Fair Business Banking please click HERE
http://www.bully-banks.co.uk/appg-on-fair-business-banking/


Meanwhile the Early Day Motion submitted by Margaret Ferrier MP and myself expressing concern over the Spanish government's decision to prosecute the Speaker of the Catalan Parliament simply for allowing a debate on independence has now been signed by 20 more MPs from different parties.
I've done a number of interviews for the Catalan and Spanish media. One, in English, is available HERE
http://www.catalannewsagency.com/politics/item/thousands-hit-the-streets-to-defend-forcadell-prosecution-provokes-international-outrage
Back in East Lothian, the day began on Wallyford Industrial Estate, where I helped volunteers from East Lothian Aid for Refugees fill an immense container with 20 tons of clothes, pushchairs, downies, bicycles, shoes, toiletries and other essential items. We wedged in as much as we could, and then the truck set off for Grangemouth, where the container joined a shipment out to Greece. Its eventual destination is Thessaloniki, which is ringed by 19 refugee camps.

Janet Barnes, Chair of ELAR, has been out to Thessaloniki to meet their partner organisation there, Involver, and says that the kindness being shown to the refugees by the Greeks is wonderful to see. As is the kindness of the people of East Lothian.
Here we are loading the container, watched by one happy dog.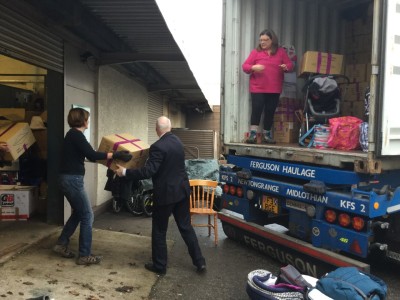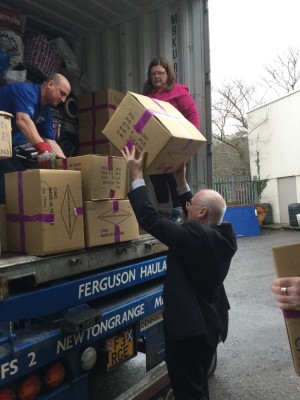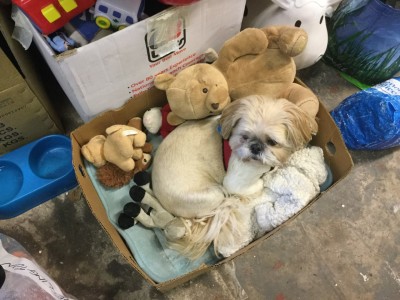 Then on to Musselburgh Job Centre, for the fourth time. We are all still struggling with Universal Credit and other benefits problems, and it is frightening to see how many of my constituents have been wrongly assessed or suddenly found their money cut off.

Fridays are particularly heart-rending, when mothers who haven't yet received their benefit payment call the office, often in tears, worried that they will have nothing for the weekend. MPs have hotlines into the system but today it still took four hours to ensure that the money came through for just four families.
From Musselburgh I went on to Gullane, where I'd been kindly invited to lunch with the beneficiaries - miners, their widows and relatives - at Whatton Lodge, the Lothian Mineworkers Convalescent Home. This is a beautiful building, an Edwardian mansion with extensive grounds and views far out to sea, being put the best possible use. I have a particular sympathy for miners, having served as economic adviser to the NUM at the time of the 1980s Miners' Strike, and it is good to see that they have such a splendid holiday home.
Here I am with the currently set of holidaymakers, the eldest of them 97, and with Nora Drinkwater, another 90-something, admiring the colourful gingerbread house she has created from wool and canvas.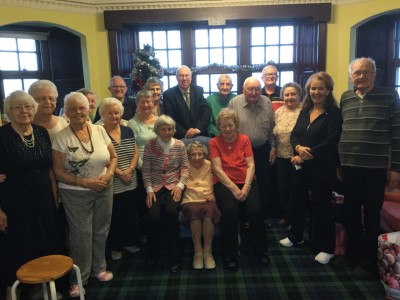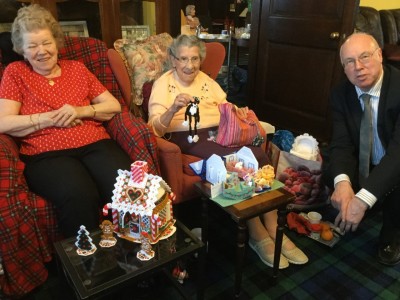 When I visited The Goth last week, it was before opening hours, so I had to go back to Prestonpans for a taste of Kentwood Ales. Saturday night is music night, so we sat back in one of the booths with a half of Wee Heavy and chilled out.