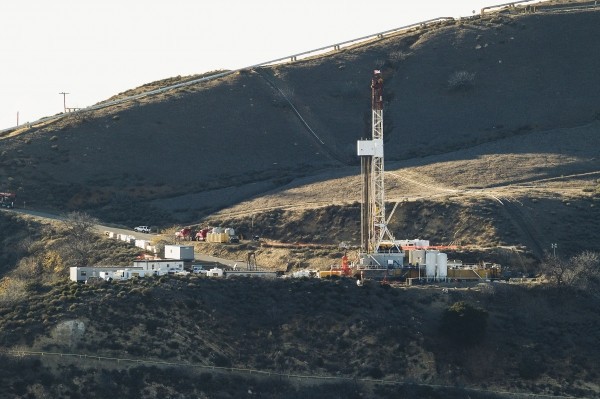 George Kerevan: Huge gas leak at Aliso Canyon in California shows the dangers of fracking
I want you to imagine a giant bubble the size of Wembley Stadium. That's roughly the volume of methane gas that "accidentally" spewed into the atmosphere when a 25-year-old methane natural gas wellhead at Aliso Canyon in California ruptured last October. Unfortunately, it is the amount of methane – a much more potent greenhouse gas than carbon dioxide – that escaped from the well in a single day.
Unfortunately, the well went on venting methane for another 112 days, pouring more than 100,000 tons of methane into the atmosphere in what is the worst gas leak in US history.
The Aliso leak made very little impression in the UK media when it occurred (surprise, surprise). But to put this colossal environmental disaster into context, we are talking about an event on the scale of the BP Gulf oil spillage back in 2010.
The leakage was equivalent to annual emissions from half a million cars. At peak, gas belching from the leak was running at double the methane emissions from the entire Los Angeles city basin. Imagine a built-up area filling the entirety of central Scotland from Paisley to Musselburgh and you'll grasp the scale.
I took the train to London first thing. Monday was an Opposition Day, and together my colleagues and I supported the UK steel industry. We voted in favour of a motion to call on the Conservative Government to publish a full industrial strategy which would include a procurement policy of using British steel wherever possible for publicly-funded infrastructure, and which supports industrial supply chains across the UK. Unfortunately, we lost by 239 Ayes to 288 Noes.
See my voting record here...
​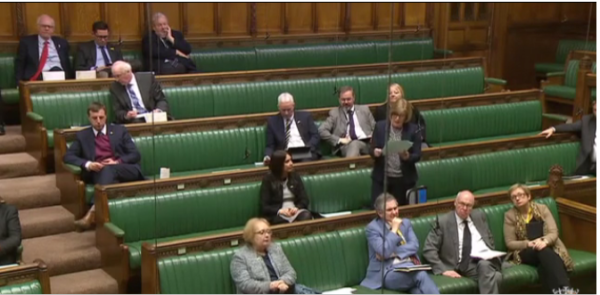 At Tuesday's Treasury Committee, I questioned Lord Hill, the European Commissioner responsible for the banks and financial services industry.  The Treasury Committee is preparing a report on the economic costs and benefits of the UK's membership of the European Union. I am a keen supporter of staying in the EU. It gives us a market for our goods, it has kept peace in Europe in my lifetime, and it helps East Lothian farmers. The EU is also tougher on bank bonuses than the Conservative Government. 

On Tuesday evening I hosted a screening of the American anti-fracking film
'Groundswell Rising'
.  I have helped to organise a UK tour of this timely film, which got good reviews in (of all places) the Hollywood Reporter. This showing was in one of the committee rooms in the House of Commons. With us was the film's producer Mark Lichty, who led a question and answer session afterwards.  Attending were a number of SNP MPs. I am totally opposed to fracking.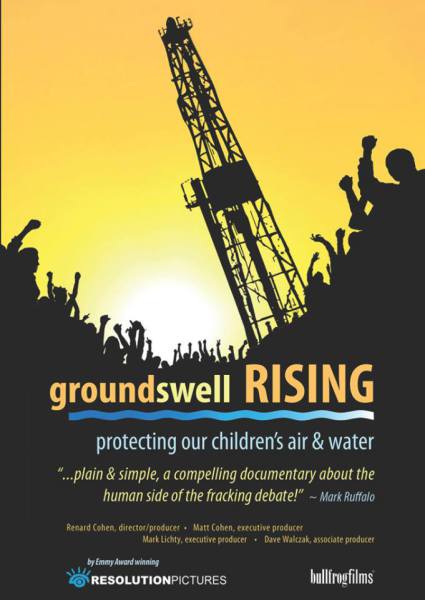 Today we considered amendments by the House of Lords to the Tory Welfare Reform and Work Bill (a.k.a reducing benefits and increasing austerity). The Bill is currently in the process of 'Ping Pong'. This is when a Bill is batted back and forth between the House of Commons and the House of Lords. I voted in favour of amendments inserted by the Lords to remove some of the harsher Conservative proposals. The Government side were in no mood to compromise and used their majority to reinsert the offending clauses. If you would like to find out more about the progression of this Bill,
click here.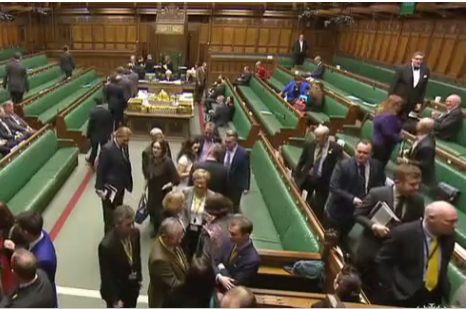 Today I questioned Ed Vaizey, the Conservative Minister of State in charge of telecommunicatons. I asked him if he would press the European Investment Bank to put more money into developing broadband in rural areas like East Lothian. I pointed out to the minister that the UK is well down the European league when it comes to having a successful digital economy. Clearly Mr Vaizey doesn't care. He couldn't even remember my question.

However I did help move the Conservative Government on another issue - saving the Scottish horseracing industry, including Musselburgh racecourse. On Thursday the Government announced that a new funding system would be introduced next year to replace the current Betting Levy. That should provide more cash for Musselburgh course. The chairman of the British Horseracing Authority issued a statement thanking me personally (among others) for putting pressure on ministers to win this important victory.

In this week's East Lothian Courier I explained some of the parliamentary process and reflected on my recent experiences in Parliament. If you would like to see at some of my mentioned point scoring, have a look at my week in review
2nd edition.

On Thursday I heard the news that the Speaker has granted my request for a Commons debate on the Hinkley Point C nuclear reactor project.  This project is being built by EDF, who operate Torness nuclear power station in East Lothian. Hinkley is supposed to be operational in 2025 (in time to replace coal-fired stations) but the French board of EDF continues to delay. Key EDF board members fear the project is too costly and could sink the company. I want answers from the UK energy minister.  On Thursday I also intervened in the Westminster Hall debate on the future of the North Sea oil industry. 
I took the train back to East Lothian on Thursday night. On Friday morning I met Willie Thomson, Chair of the East Lothian branch of the National Farmers Union Scotland (middle) and Jonathan Hall, the NFUS Head of Policy, at Willie's Wheatrig Farm near Longniddry. We discussed the delay in EU Common Agricultural Policy payments to farmers, and I promised to press for an early resolution. We also considered the branding of Scottish food and drink. Many food products are being marketed as Scottish but contain no Scottish ingredients at all, and some Scottish whiskies are even being distilled from imported maize rather than home-grown barley. I will be calling for tighter regulations in this area.
​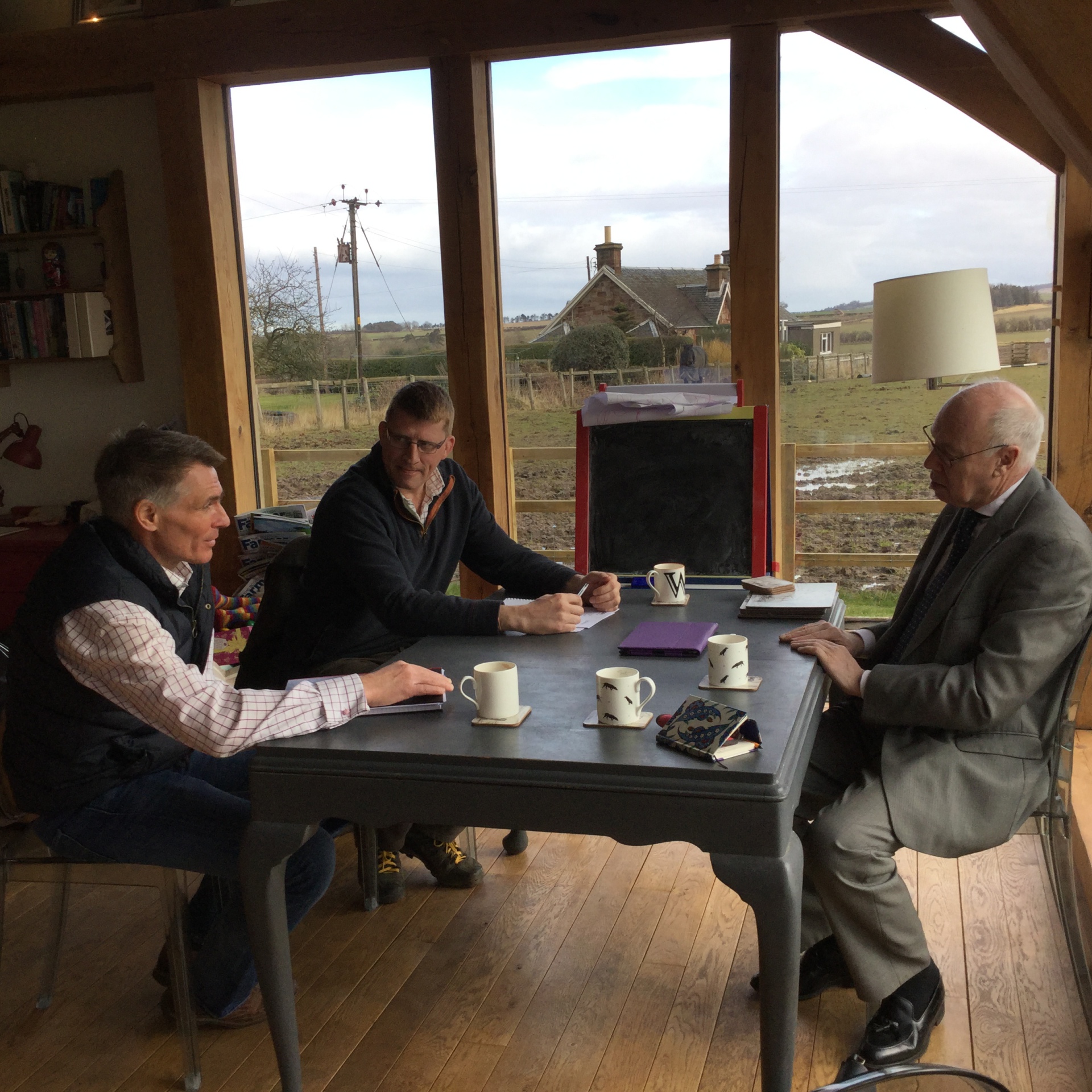 As a farming constituency, it is paramount that we help our farmers when they need it. This week the Scottish Government has issued a statement on how they plan to  help the most vulnerable farmers,
click here to find out more.
On Friday I also visited the Musselburgh Job Centre to catch up on plans for the switch to Universal Credit. Later Angela and I were at the First Night Reception for Dunbar Scifest. The light projections on the sub-station at Torness were truly stunning, and the programme of activities was even more extensive this year. Here I am with Dee Davison, the energetic creator and chief executive of Dunbar SciFest, Stephen Bunyan, Chair of the Dunbar Community Council, and a group of junior scientists, all ready to go. Back in the 1990s, I founded the Edinburgh SciFest.
I drank an awful lot of coffee today, as East Lothian is celebrating Fairtrade Fortnight. My morning started at the Town House in Dunbar, where Dunbar Fairtrade Group was holding its popular annual gathering, and I was delighted to meet my colleague DJ Johnston-Smith there.
I then went on to St. Andrew Blackadder, North Berwick, where Tillie Baird was promoting the Dementia Friendly NB initiative. She has enlisted the support of local shopkeepers and community organisations, and will be organising a grand launch in September. I look foward to it!
I finished Saturday by going back to Dunbar for a tour of the
SciFest
, where I learned how to make slime and had a close encounter with a lobster. Dunbar Primary and its two marquees were packed out with families questioning, learning and talking about science. The signed session on glaciers attracted a huge audience and I had to tear myself away.