My column appears in The National newspaper every Monday. 

George Kerevan: Welcome to the new Cold War as both sides raise tensions in Europe
THERE will be wars and rumours of wars, the Good Book tells about the last days. Well there are certainly wars galore as the carcass of the old Ottoman Empire is fought over by every possible interest group. But now a new epicentre of global instability has reappeared just in time for Brexit – Europe itself. And I mean nuclear instability.

Read more HERE

http://www.thenational.scot/comment/george-kerevan-welcome-to-the-new-cold-war-as-both-sides-raise-tensions-in-europe.24469

On Monday afternoon I met with Andrew Bailey, Chief Executive Officer of the Financial Conduct Authority, which is the body that acts as the watchdog over the banking system.  I was meeting Mr Bailey in my capacity of Chair of the All-Party Parliamentary Group on Fair Business Banking.  This is a group of MPs who are campaigning for a better deal from banks for small businesses.  I get many constituency complaints from people who have been badly treated by their banks.  

I was also in the House of Commons for questions to the Minister of Defence. Although I was not called to question the Parliamentary Under Secretary about UK involvement in the Saudi Arabian air attacks on Yemen, I was pleased that my colleague, Dr. Philippa Whitford, was called and was therefore able to ask if arms sales to Saudi Arabia would continue given the mounting toll of civilians killed in Yemen by Saudi airstrikes.
Later I asked the Defence Minister how the British Army's new Ajax fighting vehicle would fare against Russia's new T-14 battle tank. My interest in this subject is because we seem to be moving into a new Cold War with Russia and the UK is buying hundreds of new tanks in anticipation. The truth is that these tanks are too small and badly protected to confront the Russian armour. Yet again our soldiers are being badly equipped.

On Tuesday morning I attended the Treasury Select Committee meeting, where we quizzed Andrew Bailey, Chief Executive Officer of the Financial Conduct Authority, over the FCA's inquiry into the Royal Bank of Scotland's treatment of small businesses. That came just before RBS announced they would be paying out millions of pounds in compensation. We also asked about the cyber attack on Tesco Bank and the FCA's attitude to what Britain's relations with the European Union should be after it has left the Single Market.

A London free newspaper ran the story under the Headline "MPs Grill City Watchdog ."

You can read more about this HERE

http://www.cityam.com/253170/mps-grill-city-watchdog-chief-tesco-bank-and-rbs-fallout

Then home to Scotland by train for the November Recess and a chance to get round the constituency.
______________________________________________________________________________________________________________________________
The day began in Dunbar, where I visited Scott Sutherland at Marott Graphics, who are producing a revolutionary range of lubricants and corrosion inhibitors, originally for offset printing presses, but now applicable to aircraft, ships, cars and railway carriages.

I offered to talk to the Secretary of State for Scotland about a presentation at Westminster, perhaps alongside other small businesses in East Lothian.

You can buy XCP Professional GREEN ONE, a multi-purpose spray which uses no dangerous chemicals and performs better than WD-40, at your local B&Q. 

Back to Musselburgh for the Annual General Meeting of First Step, a community project for families with young children.
It was packed out with enthusiasts, and we heard a number of uplifting stories. First Step offers playrooms, family opportunities and outreach services for every stage of family life.
I promised to go back when some of the groups are meeting, and the building is buzzing with children and their parents.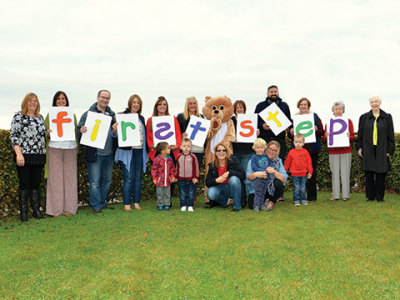 Then to Port Seton Community Centre for the consultation on the future of the Cockenzie Power Station site. This is so important to East Lothian that I was glad to see local folk having their say.

Whatever happens there will transform the lives of people in Cockenzie and Prestonpans, so it's essential that East Lothian Council take ownership of the site.

Then they can apply to the Scottish Government for grants and investment.
This site is very large and could accommodate a variety of uses. But it is important overall that it generates local jobs.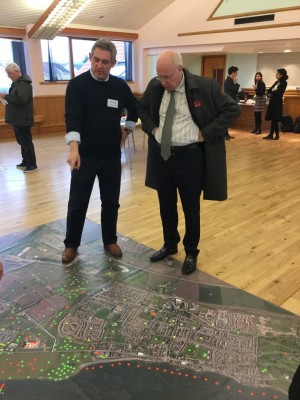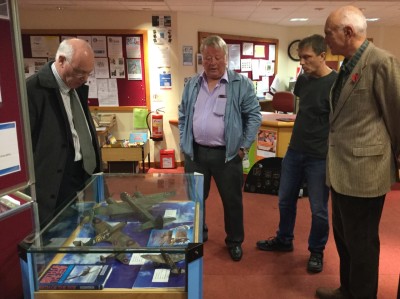 My final meeting of the day was at Port Seton Library, so I just had to go downstairs to visit the 'Raid on the Forth' exhibition.
​This commemorates the events of 16 October 1939, when a Junkers JU88 Dive Bomber from the Luftwaffe's elite KG30 Unit targeting HMS Hood was attacked and damaged by Spitfires from 603 Squadron and crashed into the waters of the Firth.


Survivors from this, and a second bomber, KG30's leader, downed moments later by 602 Squadron Spitfires, were rescued by local fishermen.

Here I am with the organisers and Wing-Commander George Robertson, a former RAF fighter pilot.
A quick cup of tea at home, and then to the annual dinner of the Federation for Small Businesses East of Scotland, where Keith Brown MSP, Cabinet Secretary for the Economy, Jobs and Fair Work, was the keynote speaker.

My column appears in the East Lothian Courier every week. Scroll down the right side to read it.
To Edinburgh this morning, to accompany Committee Members from PASDA to a meeting with my old friend Maureen Watt MSP, Minister for Mental Health, at the Scottish Parliament.

Pasda offers support to parents, partners, siblings and carers of adults on the autism spectrum who live in Edinburgh and the Lothians. I have been working with them for a year now, and have joined the All-Party Parliamentary Group on Autism to support them.

Here I am with Cath Purdie, a Tranent constituent, and Susan Chambers (Convenor), who wanted to talk to the Minister about the Scottish Government's Mental Health Strategy. She listened sympathetically to what they had to say, and her assistant took copious notes, so I hope that they now have a direct channel to her office.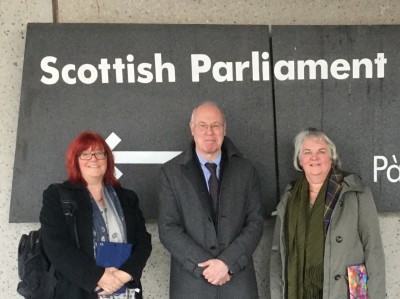 In the afternoon I made my first visit to Colstoun Cookery School, which was generously hosting the Ignite project. This involved a whole day of food preparation by six students from Knox Academy organised by the Lead a Bright Future team, who worked alongside them.

Here we all are in the kitchen, putting the finishing touches to the dinner for 100 guests they cooked and served. Each of the students had invented a social enterprise project, and we viewed a video they had made, detailing their struggles with names and branding, between courses.
Lead a Bright Future aims to strengthen young people's confidence and teach them leadership skills, so, as a project, this was a perfect choice. Cooking requires teamwork, discipline and an ability to meet deadlines, and is one of the great levellers.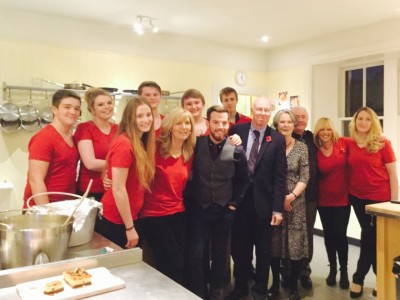 ______________________________________________________________________________________________________________________________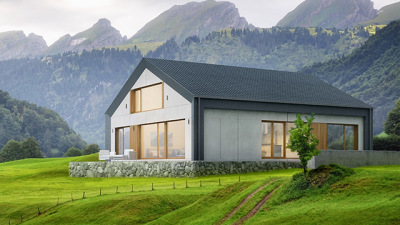 Every second and fourth Friday of the month is an advice surgery day, a drop-in session for constituents. Today the first was in Musselburgh, so I slipped in a quick meeting to discuss eco-ready houses before.

They're beautiful, they're energy efficient, they're cheap, but the problem is how to import them from Poland, where they are constructed in kit form.
For more information consult www.ecoreadyhouse.co.uk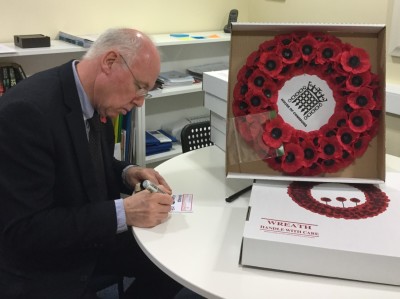 Then on to surgeries in Port Seton and Tranent. And back to the office for a meeting about the possible consequences of Brexit with Simon Henderson of Earth Squared, the textile company based in Haddington.

Meanwhile, a meeting of the East Lothian branch of WASPI, Women Against State Pension Inequality, was going on in our big meeting room. They are full of ideas and enthusiasm The Government will have to climb down in the end.
I ended the day by signing labels for Remembrance Day wreaths. This year I sent to all the six towns.
_____________________________________________________________________________________________________________________________
An early start this morning for Glasgow, where I was the keynote speaker at the AGM of Scottish CND. I talked about NATO, Russia, and President-Elect Trump.
_____________________________________________________________________________________________________________________________
Remembrance Sunday.

This year I laid wreaths at Inveresk and Musselburgh. Here I am with Musselburgh Cllrs. Stuart Currie, John Williamson and Fraser McAllister.
Meanwhile, Cllr. Steven Brown laid one for me in Prestonpans, John Mather in North Berwick, Isobel Knox in Dunbar, Morgwyn Davies in Haddington and my wife Angela in Tranent.
It was a moving and thoughtful experience for all of us.