My column appears in The National every Monday. Scroll down the right side to read the full article.  
It's still Parliamentary Recess time, so I spent most of the day in my office revising the chapter I wrote for 'Tackling Timorous Economics: How Scotland's Economy Could Work Better for Us All'. My co-authors are Stephen Boyd, Gerry Hassan and Katherine Trebeck and it's due out soon. Watch this space.

An early-morning cup of coffee with Professor Joe Goldblatt at Queen Margaret University to update myself on the progress of the QMU Innovation Centre, which is moving along. 

I also met Vivienne Weldon, Chair of East Lothian Out of School Care Network, who has some imaginative ideas for expanding their network of breakfast and out-of school clubs. 

Home to write my weekly column for the East Lothian Courier, and on to the University of Edinburgh, where I met lecturers from the Politics and Sociology departments to discuss borrowing and currency options for an independent Scotland,
I ended the day by addressing a delegation from the City of Bergen on the subject of politics and culture. There are strong Scottish links with Bergen: their Rosenkrantz Tower was built by Scottish masons in the 16th century, the harbour was a centre for the Shetland Bus operation in World War Two, and the opera company is run by a Scot, Mary Miller, who was brought up in Gullane. We now have a Bergen flag for the office.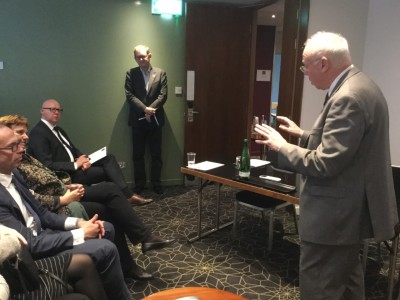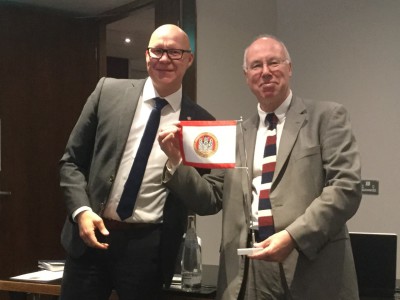 Another writing day.

Today it was an article for The House magazine's issue for the SNP Conference. The House magazine is Parliament's very own "in-house" magazine, delivered to every member of Parliament in the UK, directly into the pigeon-holes of both Westminster Houses, and available free online. I've been a member of the editorial board for over a year now.

Then on to correspondence and constituency issues. 

I started the day at Knox Academy, where I had been invited by the Advanced Higher Modern Studies group to talk about crime. They had prepared some challenging questions for me, and we covered the waterfront: hate crime, terrorism, the role of the media, vandalism, homophobia....

Back to the office for a casework meeting to discuss the really knotty issues. I'm glad that we decided to put so much effort into casework, because there are a lot of people out there asking for help. In fact we have dealt with over 700 cases since I was elected. The main issues are social security and pensions, followed by housing and planning. Then business, local government and immigration.
Finally to Tranent, where I presented a cheque to Recharge Youth Community Facility.
I'm a great admirer of Recharge. I like the fact that it's led by young people, who are responsible for choosing and arranging the activities, and for managing grant funding. In Tranent they have film shows and a bicycle repair shop and a rock music project and lots of trips.
The cheque was a fee from a polling agency for an interview I'd done, and it was received by Natasha Melrose, who has just been appointed Recharge's first Trainee Youth Worker. Here I am with Natasha and Alan Bell, the Manager.

Congratulations to Natasha on her appointment. She's come up from the ranks, with four years' experience at her back, which is exactly how it should be. I've told her to spend the cheque on something imaginative, and look forward to hearing what she and her colleagues have decided.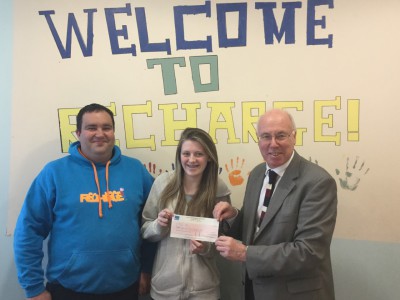 And my weekly column in the East Lothian Courier appeared today. Please scroll down the right-hand side to read the full article.
In the evening I took part in the question-and-answer session following a screening of The Fog of Srebenica at the Scottish Parliament hosted by Ruth Davidson MSP, who had visited the Balkans in 2000 as a journalist.

There was a sizeable audience and a thoughtful discussion afterwards. It is horrifying to know that Bosnian Muslims are having to live alongside the men who raped them and murdered their families, few of whom have been brought to justice.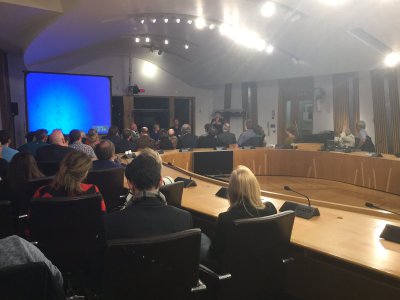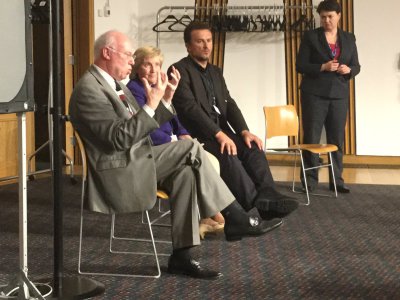 Friday began early with a meeting of the Social Enterprise Network in Dunbar. This took place at the Jacqui Burke Fashion School, and began, of course, with a catwalk show, with the students modelling their own designs. Except that we didn't have a catwalk, so they skilfully skirted a capacity audience. Here they are taking a bow.

There was an excellent presentation from Sue Northrop of Dementia-Friendly East Lothian, whom I'd already met in North Berwick, and another from Jordan Butler, a musician who works with young offenders, and has reinvented himself with help from the Network.
I was also delighted to meet Siobhan Grealy and Jacqui Preston, who are about to launch the Dunbar Music School. Working on the Lammermuir Festival's stunning production of Noyes Fludde reinforced their belief that there's a real appetite for music instruction in Dunbar, and they already have 44 applicants for piano teaching to prove it.
But the star of the show was Jacqui Burke herself, a futuristic designer with a passion for cut, finish and community involvement. Her students learn to make their own patterns to degree standard, and of the six she trained this year, she has taken on four as paid employees. In the past month the Fashion School has worked with the National Museum of Flight, with Dadswork, with Dunbar Street Art and with students from Musselburgh Grammar and Ross High School, Tranent. Jacqui is currently working on a collection for London and New York Fashion Weeks, and we're fantasising about a show in Westminster Hall, with MPs modelling her designs. Here I am with her, and the wonderful Elaine Gale, now Social Enterprise Network officer at STRiVE, on the left.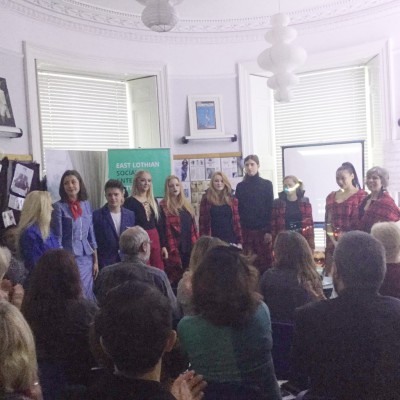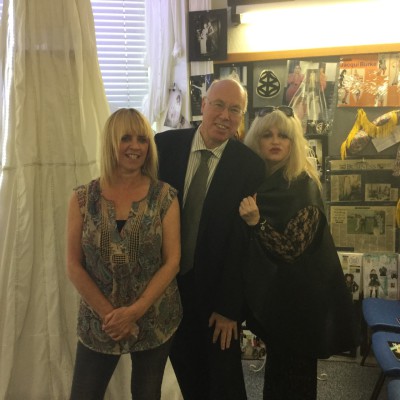 Back to the office to hand over a bottle of Glenkinchie as a raffle prize for East Lothian Messenger's fund-raising concert at St. Mary's, Haddington, the following day. The Messenger has been in existence for 23 years now, and provides an essential service to visually-impaired people, providing them with a weekly tape of local newspaper coverage recorded by volunteers.

Finally, I dropped into the East Lothian WASPI group, who were using our big meeting room for their second meeting. They have been incredibly active over the last month, joining the demonstration at the Scottish Parliament, signing a birthday card to Theresa May, and collecting over 200 signatures for the Public Petition, which I will be presenting at Westminster next week. Defence of Women Against State Pension Inequality is a priority for our SNP group at Westminster.
Here I am accepting the petition, and about to hand it in at Westminster.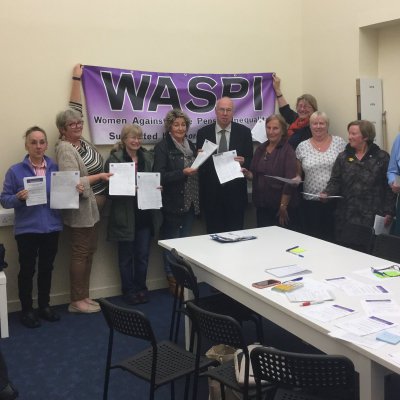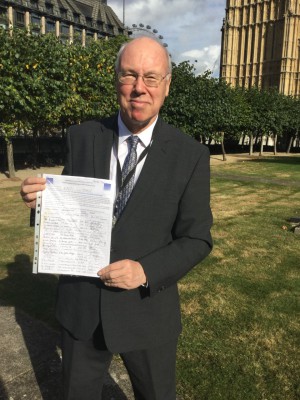 This afternoon members of the East Lothian Antiquarian and Field Naturalists Society visited the house and we gave them a tour.